PADI IDC Malaysia - scuba diving instructor career training in Malaysia
PADI Platinum course director SF Chong welcomes you to Go Pro IDC in amazing Malaysia, home to the most spectacular scuba diving in Asia. Choosing the right course director for your professional training is the most important decision you will make prior to entering the dive industry as a professional educator.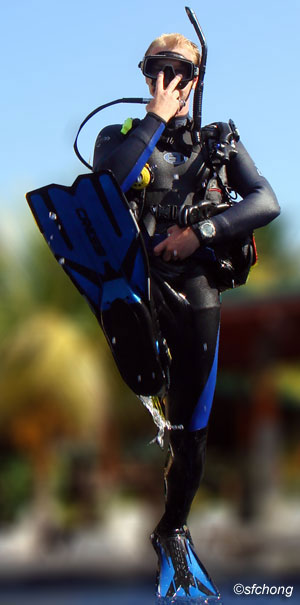 Award winner Platinum course director SF Chong provides the quality, experience and expertise you should expect during your instructor development training. Look at what will make you successful in the real world - you deserve the best training and education available. One of the most important steps towards a successful career in diving is your instructor training. Becoming a diving professional is not only a change of career; it's much more. You are embarking on an adventure and a change of lifestyle!
PADI IDC Instructor course in Malaysia
Malaysia is without doubt one of the best learning environments you can find. Malaysia offers excellent and especially convenient diving conditions, attracting thousands of divers every year. A perfect blend of truly Asia and international atmosphere, with a touch of adventure, warm waters, a tropical climate, beautiful beaches, and the friendly Malaysian hospitality, all adds to an exciting, pleasant and enjoyable stay and completing your PADI instructor development course in Malaysia with us! We are looking forward to welcoming you.

We provide:
highly experienced dive training from beginner to professional instructor level as well as various diving specialties and PADI Tec Instructor courses. Please take a moment to browse our website and if however you have any questions or would like further information, please feel free to email us at info@idcmalaysia.com

NEXT PADI SCUBA DIVING INSTRUCTOR COURSE STARTS:
INSTRUCTOR DEVELOPMENT COURSE PADI IDC BALI INDONESIA 19TH JANUARY 2012 CONDUCTED AT 5 STAR INSTRUCTOR DEVELOPMENT CENTER (ASIA) - BALI SCUBA R6522.
We also provide courses from Zero to Professional scuba diving instructor courses, Divemaster Internships, MSDT Internships, PADI IDC Staff Instructor Internships and PADI Tec Instructor Course in Malaysia and Perhentian island.
Next: Course Director SF Chong